Idea of India - still young @ 66
New Delhi, Wed, 15 Aug 2012
NI Wire
null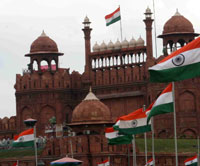 On the 66th anniversary of India's independence, in a time when public dissatisfaction grows with numerous socio-economic problems, we Indians no more see India as an emerging world superpower unlike few years ago. In difficult economic scenario all over the world, things now appear in a state of turmoil and there is much to fix before moving further to be called a developed nation with aspiration for becoming a world superpower and not just a global market place.
Global economic slowdown since the 2008-09 financial crises has restricted the growth rate of every developing nation, so does in India. Last year, India's GDP grew by 6.5%, lower than what was viewed four years ago. Many economists are of the view that India's economy is passing through a difficult phase with slow growth and high inflation. Under such condition, much needs to be done by the government to shield the economy from the global slowdown.
The government is still hopeful to bring India back to a better growth path with various measures. As suggested by economists the need of the hour is to facilitate a better collaboration with industries and institutions. However, in the eyes of average Indians, who live in villages, any growth number in terms of GDP doesn't matter much until and unless our basic needs are met. There are still many places where we are yet to get electricity, drinking water, schools and colleges and even roads for better communication.
It is sad that after 65 years of independence from the colonial power, the Prime Minister of India is still promising that every house will get electricity in five years. Amid many promises and hopes, we Indians are also deeply saddened by many other domestic developments, including the rampage corruption in public institutions by government officials and recent communal violence in Assam.
Much self introspection needs to be done, keeping aside the world outlook over the growth path of India. We need policies that push rapid urbanisation and the expansion of manufacturing. To an encouraging point, we have seen some of the state administrations have achieved it with constant efforts. Therefore, any policy uncertainty by the central government can further jeopardise India's march towards a double-digit growth.
Furthermore, under a not so conducive domestic political scenario with much compulsion in running a coalition government, the centre needs to take some quick and bold initiatives for the growth of a nation that has so many mouths to feed. There has been many government schemes to wipe out the evils of poverty and hunger, but the goal still seems far way. The recent comment of UNICEF, 'malnutrition is more common in India than in sub Saharan Africa,' just shows the reality of our human development efforts.
With an increasing number of female foeticide cases, inequitable growth and gender inequality, it's no wonder that the Human Development Index 2011 places India at 134 out of the 187 countries. The condition of women in general is deteriorating, even in the so-called educated and urban set-up. Despite the Supreme Court guidelines, India is still struggling to deal with sexual harassment and many others that cut short women empowerment.
Talking about education, Prof. Amartya Sen has rightly said that education in India is in a state of emergency. He said: "While Indians generally do well on high skills related jobs/issues like IT, in the middle skill segment we are very bad." Certainly, lack of quality education to a large segment of people - who contribute more to the economy in many ways - has cost us a lot.
It shows that despite an explosive economic growth in the last two decades, life for average Indians remains extremely difficult. Several people in the country have no source of livelihood whatsoever and sizeable portion of population live with no access to nutritious food, drinking water, quality healthcare and education.
Going by the 'idea of India' (whatever it may be), we first need to deliver basic needs to the poorest, eliminate the narrow confines of caste and religion and recognize the benefits of women empowerment. Nevertheless, on yet another Independence Day celebration, we can proudly say that we Indians have learnt to use democracy beyond election by raising our voice of concern for everything that we find deterrent for the interest of nation.
null