Journey of Ramdev from Ramkrishna Yadav to Baba Ramdev
New Delhi, Sat, 11 Aug 2012
NI Wire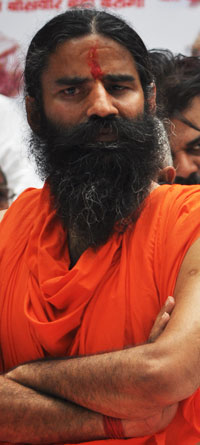 The Journey of Ramdev from Ramkrishna Yadav to Baba Ramdev has a long history of commitment, patience, struggle, motivation and vision.
Swami Ramdev, popular as "Baba Ramdev" has been in news for last few years, first due to his Yoga and then for his call to bring back the black money. But who is actually Baba Ramdev?
Baba Ramdev:Early Life
Born as Ramkrishna Yadav on 11 Jan 1965 at Ali Saiyad Pur village of Mahendragarh district in Haryana state of India, Baba Ramdev belongs to a poor family background. His parents Gulab Devi and Ram Nivas Yadav were an ordinary poor Indian Family.
After getting an education till 8th Standard, he joined yogic monastery (gurukul) in Khanpur village where he started to learn the techniques of Yoga. At the Gurukul, he studied Sanskrit and Yoga under his mentor Acharya Baldev, and earned a postgraduate degree with specialization in Sanskrit grammar, Hindu philosophy, Yoga, Vedas and Upanishads. After staying in Gurukul he took the Sanyas and changed his name to Ramdev.
Baba Ramdev and Yoga
After changing his name from Ramkrishna to Ramdev, he went to Jind district of Haryana and joined Kalva gurukul. There, he offered free Yoga training to the villagers across Haryana.
After spending few years there, Ramdev went to Himalaya to several years for self-discipline and meditation. After returning back from there, he moved to Haridwar, Uttarakhand and spent many years studying ancient Indian scriptures at Gurukul Kangri Vishwavidyalaya.
There he became one of the founder members of the Yoga Empire Divya Yog Mandir Trust, Haridwar, established with an objective to popularize Yog and Ayurved among the common public.
He founded Divya Yoga Mandir Trust in 1995 with the help of Acharya Karamveer and Acharya Balkrishna with its headquarters at the Kripalu Bagh Ashram of Haridwar.
Baba Ramdev became the pioneer of popularising Yoga in India as well as across the globe including Britain, USA, Japan and other countries. With his eminent efforts Yoga became a household word in India, which was loosening its popularity day by day.
Baba Ramdev is famous for his teachings of Pranayama, a popular form of Yoga that includes basically of six breathing exercises namely:
Bhastrika Pranayama
Kapal Bhati Pranayama
Bahaya Pranayama
Anulom Vilom Pranayama
Bhramri Pranayama
Udgeeth Pranayama
These Yoga practices benefited countless number of people across the world for the prevention and cure of various health issues. He started hosting a program named 'Divya Yog' that airs on Aastha TV every morning at 5 am. In addition to that, he also conducted weeklong training camps in cities all over India.
He also the "Patanjali Yog Peeth Trust", that was inaugurated by Bhairon Singh Shekhavat, then Vice-President of India with other 17 dignitaries including C.M.s and Governors of the different states on August 6, 2006.
Baba Ramdev and Ayurveda
In addition to Yoga, Baba Ramdev also played a great role in promoting Ayurveda, the ancient science of healing in India, which had almost lost its identity in medical science. His institution, Patanjali Yogpeeth Trust in Haridwar, is actively engaged in research for the healing powers of yoga and Ayurveda. In addition to that, the trust also provides many free services to all its visitors and benefited millions of people. Ramdev restored the faith of people in Ayurveda and told everyone about the effectiveness of this ancient Hindu system of medicine.
Establishment of Institutions
In addition of promoting Yoga and Ayurveda, Baba Ramdev also established various institutions to pass the supreme knowledge of Yoga and Ayurveda to the next generation.
Baba Ramdev has started following institutions also
Patanjali Yogpeeth Trust
Patanjali Ayurved College
Patanjali Chikitsalaya
Yog Gram
Go-Shala
Patanjali Herbal Botanical Garden
Organic Agriculture Farm
Patanjali Food and Herbal Park Ltd
Divya Prakashan: "Yog Sandesh", a, monthly journal on Yoga is being published in 11 languages viz. Hindi, English, Gujarati, Marathi, Punjabi, Bengali, Oriya, Assamese, Nepali, Kannad and Telugu by this pulication.
In addition to that, Patanjali Yog Peeth has acquired a Scottish Island for approx £2 million to set up a wellness retreat. The land was acquired itself by a Scottish couple of Indian origin, Sam and Sunita Poddar, to expand the base of Patanjali Yog Peeth the institution founded by Ramdev. These premises will be governed by the Patanjali Yogpeeth (UK) Trust.
Awards and Recognitions
In 2006, Swami Ramdev was invited by the United Nations to participate in a poverty eradication program
Baba Ramdev was honoured with the Doctorate degree from Kalinga Institute of Industrial Technology, Bhubaneswar, for his efforts to popularize the Vedic science of Yoga in January 2007.
Amity University, Noida, Uttar Pradesh in March 2010 honored him with Degree of Doctorate of Sciences.
Dr D. Y. Patil Deemed University, Pune, Maharashtra honoured Baba Ramdev with honorary degree of Doctor of Science in April 2010.
Baba Ramdev was honoured with Sri Chandrashekharendra Saraswati National Eminence Award by Maharashtra Governor K. Shankaranarayanan in January 2011.
Baba Ramdev as Social Activist
After serving the nation with his Yoga teachings Baba Ramdev turned into a Social activist and an anti-corruption crusader and raised several social issues of corruption predominant in the nation at present. According to Baba Ramdev, it is his voluntary duty to bring about a social and political reformation in the country to strengthen India apart from popularising yoga.
Ramdev has raised several political, social and economic issues in front of the Govt and the people through his yoga camps of which most issues are related to the changes in the governance policies of India.
On June 4th 2011 a massive Satyagraha against Corruption and Black Money was launched by Baba Ramdev in the form of "Bharat Swabhiman Movement" in New Delhi with an objective to eradicate corruption , crime , poverty from Bharat and transform Bharat into a World Power. Thousands of people participated in this symbolic fast to support Baba Ramdev's call for a "satyagraha" the peaceful protest based on the principles of Mahatma Gandhi.
Some of the other major social and political campaigns of Baba Ramdev against black money and corruption in the country includes:
Agriculture and Dietary Practices
Protest against black money
Anti-corruption rally on 27 February 2011 at Ramlila Maidan
Bhrashtachar Mitao Satyagrah 4 June 2011 at Ramlila Maidan
Recently, Baba Ramdev is in news for his 3 days symbolic fast at Ramlila maidan, New Delhi against issues like bringing back the black money from the foreign banks, passing of a strong Lokpal bill in the country, demand of making CBI an independent body and transparent procedure for appointing Election Commissioners, CAG, CVC and CBI director. Baba Ramdev announced a three-day hunger strike on August 9, 2012 along with his supporters at Ramlila maidan, New Delhi. He has demanded the Govt to act quickly on those issues or the movement will run ahead.
To know more visit: Baba Ramdev's Political and social Campaigns.