24th Mango Festival celebrated in Delhi
New Delhi, Sun, 08 Jul 2012
NI Wire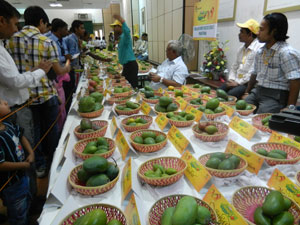 It's the season of Mangoes again……. Mango has been a part of Indian culture from the ancient times and one of the favourite fruits of every individual indeed. As an initiative of Delhi tourism to bring different varieties of mango from every corner of world at a single platform, the 24th mango festival kick started at Pitampura Delhi Haat from 6th July and will end on 8th July 2012.
The 24th Mango festival was inaugurated on 6th July by Hon'ble Chief Minister of Delhi Smt. Sheila Dixit accompanied by many other dignitaries. The festival is being organized by an association of Department of Tourism, Govt. of NCT of Delhi, Incredible India, APEDA and National Horticulture Board.
Over 500 varieties of mangoes have been exhibited in the festival from different states like Bengal, Bihar, Haryana, Punjab, Himachal Pradesh. The festival showcased different varities of traditional and hybrid mangoes that that includes Alphonso, Benishan or Benishaan, Kesar, Neelam, Dusehri, Sheila, Aishwarya, Khali, Mallika, Sirki, Suwarn, Jahangir, Neeleshwari, Royal SP, Raddy Pasand, Himasagar, Kensington, Amrapali, Fazil, Banganpalli, langda, Tota pari, Vanraj and much more by various agro and food processing companies and institutes of the country.
Mango Festival is organized by Delhi Tourism every year since 1987 to bring all the varities of the king of all fruits in front of common people at a single place and has gained much popularity year after year with 20,000 visitors coming to the festival each day. The festival is celebrated with an objective to bring a good livelihood farmers and other persons involved in the production of Mango.