What is the Higgs boson and how it is important to us? Simple Explanation
New Delhi, Thu, 05 Jul 2012
NI Wire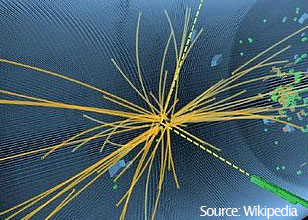 For days now, this Higgs Boson also known as God Particle has been in news. But with all the scientific terms it has been way difficult to understand it.
So in simple language let us know, what is Higgs boson, why it is called God Particle and how it is important to us?
Higgs boson: is a type of particle, which is a part of "Standard Model" of particle physics.
Let's say Standard Model is a car. Then Higgs boson is the wheels of that car, which may or may not exist. Its existence is in doubt till date. And hence scientists are searching how the car moves and does the wheels (Higgs boson) exists. And if it does, they will move on to next step, how does wheel work?
CERN's Large Hadron Collider are carrying out experiment that will help us understand what happens in the universe by depicting exact picture of the smallest building blocks of matter.
How it is important to us?
It will help us understand how Universe came into existence and will also help us to know about creation of other particles and matter that created humans, plants, rocks, etc.
Why the name God Particle?
Leon Lederman coined term "God Particle", because he felt it is so crucial to our understanding of the structure of Universe and matter.
Leon is former director of Fermilab and Nobel laureate. He coined this word in his book The God Particle: If the Universe Is the Answer, What Is the Question?
Explanation of Higgs boson in little depth:
According to a theory, Higgs field, an energy field made up of a particle called the Higgs boson slow some particles but not photons. Higgs boson are a set of particles from which we can attempt to know about the fundamental building blocks of the universe and how the Universe was made.
Any particle that travels through universe:
Attracts Higgs boson: Then they combine to form matter and gain all the properties of mass (weight, gravity, etc.).
Pushes Higgs boson away: Then it continues to travel as a form of energy over an infinite range (light).
Higgs boson joined with other particles creates life: humans, plants, rocks, etc.
Scientists have yet not proved the existence of the Higgs boson and have blindly assumed its existence.
CERN's Large Hadron Collider is allowing scientist to prove whether or not the basic workings of Standard Model are correct. It speeds up particles and smashes them together. They then observe what happens. If everything acts like the Higgs theory says then they have proof.
With that proof the scientists will move to questions where this model fails like with dark energy or the full theory of gravitation.