"Satyamev Jayate": End of a perfect show by Mr.Perfectionist
New Delhi, Sun, 29 Jul 2012
NI Wire
null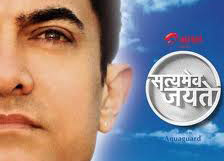 After its glorious journey of 13 weeks, which got aplomb by entire classes of audiences and creating a new milestone on the small screen, Amir Khan's "Satyamev Jayate" finished its journey of 13 episodes. During this period the show unleashed a vast impact on the entire system in which not a common man but even Chief Ministers of the various states meets to Amir for the final conclusion of the issues.
The show, which went on, air May 6, Amir raised many sensitive issues of our society on which we were not ready to talk or share. Many victims of the issues were tight lipped and want to share their ordeal to some one. But thanks to Amir and his show, which provide a platform on which then, have shared their troubles. Child sex abuse, medical malpractice, manual scavenging and dowry etc are the issues which all are burning topics and a lot have been come forward after the show.
However the episode highlighting malpractice among medical practitioners irked medical community. Though the medical community was miffed and asked apology from Aamir, the parliamentary standing committee invited Aamir and the "Satyamev Jayate" team to discuss the issue.
The grand finlae show highlighted the basic tenets of the constitution that promises equality for all. Ironically, the people in the country are still subjected to discriminations on the basis of caste and religion.
Not only in terms of popularity but also it also created huge business possibility for the actor as the sponsors companies were of mega player of business industries.
In last 13 weeks, the star evoked a range of emotions as he dealt with the sensitive topics, and each episode witnessed moist eyes among those in the TV audiences and many more at homes and offices across the country as people tuned in to watch the programme.
Before the show hit the screen, Aamir said in his promotional ads that he wanted to replicate the phenomena created by the epic Mahabharat and Ramayana teleserials of yore on Sunday mornings and he succeeded in doing so.
(With inputs from IANS)
null