Who is Baba Ramdev?
New Delhi, Fri, 08 Jun 2012
NI Wire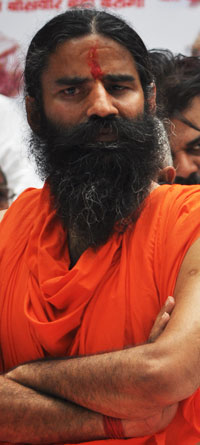 Manish Kumar
Noted English writer William Shakesper had once said -"It is difficult to say what is impossible, for the dream of yesterday is the hope of today and reality of tomorrow."Baba Ramdev alone has proved the fact. Yoga and Ayurveda, which was the identification of great Indian ancient heritage, had remained limited to only some textbooks or some of the institutions, which was being struggling for its own significance.
But it is Baba Ramdev who has credit to give a new look to the ancient Yoga and established it from the heart of every Indian with a modern look. There should not be any exaggeration in saying that after the independence, in more than 60 years all the efforts raised by various government departments and ministry to make popular the Yoga become null, but its Ramdev who has made Yoga popular in not only in India but also outside the country.
Yoga Guru Ramdev was born on 11 January 1965 in Alipur village of Mahaendragarh district in Haryana. His mother name was Gulab Devi and Father was Ram Nivas. He has read upto only class 8th which is his formal education, but has vast knowledge regarding Indian scriptures, yoga and Sanskrit under various gurukuls.
He started to teach people the lesson of Yoga from very early. First of all he offered free yoga training to villagers of Kalva Gurukul in Jind district of Haryana. It was his first yoga camp and since then he never look behind. He gone through various Universities like Haridwar, Uttarakhand and spend several years studying ancient Indian scriptures and Gurukul Kangri Vishwavidalaya. He has visited Himalayas and practiced intense self-discipline and meditation.
Public Appearance: Establishment of Divya Yog Mandir was another milestone in his life, which gave a new domain to his personalities. He started the trust with Acharya Balkrishna at Kankhal Haridwar and his popularity rise day by day. Now he becomes a Yoga Guru who established that exercises to reach every Indian with full fledge. A large number of people become his follower and now he become the icon for flourishing Yoga among the Indian.
His potentials and abilities of Yoga made not only simple Indian to his fans but even leading personalities from every span of life started to join his yoga camp. His popularity encompassed from the Indian frontiers and he was appreciated abroad too for his Ayruveda and yoga movement. He taught yoga in Britain, USA, Japan and many other countries of the world.
It was major achievement for him when he was invited by Kofi Annan to deliver a lecture on poverty alleviation in a United Nations conference in 2006. This was the phase when Ramdev become a world famous personalities which has many to say except yoga and Ayuveda and interestingly world appreciated his talents in all forms.
Patanjali Yogpeeth: Ramdev has never left his affection from Indian old culture and heritage, yoga, Ayurveda and vision for life. To fulfill his these dreams, he established Patanjali Yogpeeth in 2006 as a research center for yog and ayurveda in India. The vision of the institute was to evaluate the physiological and clinical effects of Yog and Pranayam as taught by Ramdev. It also provides Ayurvedic medicine formulated by Acharya Balakrishnan. It also organizes free yoga classes and provides free ayurvedic consultancyin the pataljali yogpeeth premises. A multi specialty hospital, a university and yoga research is the main features of the yog peeth which claims his dedication to expansion of Yoga and Ayurveda to the common man.
Ramdev targeted fast foods and soft drinks
Ramdev strongly condemns the consumption of fast foods and soft drinks and started his movement against these products. According to him people should avoid these products, as it can be a cause for disease. Attacking on the soft drinks he termed that these are harmful for the body as it contains phosphoric acids, preservatives and some unknown chemicals. There was created a big hue and cry when he compared these soft drinks with toilet cleaner. Multinational companies were targeting him as he appealed people to avoid these drinks for not only health purposes, but also considering the Indian wealth point of view. He advocated people to consume hot water, milk or traditional Indian juice instead for good health.
Ramdev on fertilizers and pesticides
Ramdev also raised his voice against the use of fertilizers and pesticides and said that it provides the profits to large business houses but harm the Indian farmers. He strongly opposes the use of pesticides in farming blaming that it contaminates the products which harm not only health of human beings but also it effects badly the fertility of farm fields. He emphasizes the plight of Indian farmers and said that agriculture is a vast sector for India and it is matter of concern that situation of farmers is so grim in the country. He advocated that for a different India, situation of villages of the country must be changed.
Ramdev: Yoga Guru turns into anti corruption crusader
But for some time now, Yoga Guru has given expansion of his Yoga movement and unleashed a agitation against Corruption and Black money. He said that only curing of human body is not enough for him rather a corruption free society and government is also in his agenda. He has created a massive movement against the corruption, which has become a part of system and today common man is suffering a lot from this.
In fact Ramdev has become a crusader for anti corruption and black money movement. Especially he focused the attention of general public strongly against the black money, which he claimed that about Rs. 400 lakh crore or nearly 9 trillion USD of Indian black money is outside the country. However the figure is just an estimated one but Ramdev has unleashed a movement against the black money and turned the issues as a national issues. However he refused for any political ambition for him but said that the money should be come to India for the welfare of the countrymen.
Interestingly the scholar of Indian art and culture and master of Yoga and Ayurveda, Ramdev has very clear and significant remedies to improve Indian economy and curbing the black money circulation inside the country. Like an economists he has suggested many measured to curb the amount of black money circulating inside the country. Ramdev clarify his views, as total currency note circulation in India is 10 lakh crore. He points out that there is huge amount of black money circulating inside the internal economy and also an equally high amount of unaccounted wealth is being siphoned out of the country every year. He blames the corrupt ministers and bureaucrats for the malpractices. Ramdev demands to withdrawal and demonetizing of Rs.500 and Rs. 1000 currency notes so that misuse of unaccounted money can be curbed. Also it helps in quick arrest of the entire locally circulated black money, bribing and fake note circulation in the country.
Anti corruption rally
To fulfill his commitment towards his struggle against corruption and black money, Ramdev organized his first massive anti corruption rally capital of Delhi in which major personalities shared dais with him. The significant rally which war organized on 27 Ferbruary 2011 at Ramlila Ground was a major success for his movement as over one lakh people participated in the movement and leading personalities from every span of life including Ram Jethmalani, Anna Hazare, Kiran Bedia, Swami Agnivesh, Arvind Kejriwal and many others were present on the occasion. Almost all the speakers highlighted the impact of corruption on the common man and they criticize government for its indulgence. They also speak about the black money issues and demanded to take proper action in the context.
Ramdev fast and Police crackdown on 4th June 2011
It was a major milestone for his movement against black money and corruption when he has to face a police crackdown at midnight during his fast at Ramleela grounds in Delhi. Indeed the police and government handled the situations went to against her and Ramdev gains much popularity and sympathy around the worlds. Many thinkers, ntellectuals and political parties except Congress termed it as an attack on democratic structure and effort to kill the individual liberty to fast for a cause.
He started his indefinite fast on 4 June 2011 at Ramlila Ground to pressure on government for his demand of corruption and black money. There was much drama from the central government during his fast when it was tried to first convince him and then as Baba Ramdev claimed, government betrayal with him on the end of the fast. He decided to continue his fast until a proper reply from the government ordinance.
At the midnight of 4 June, it has been alleged that about 10,000 police officers of the Delhi Police and RAF raided the Ramlila Ground and tried to vacate the grounds from the satyagrahis. It is noted that at midnight all the people at the grounds were fast asleep and police force lobbed tear gas shells and lathicharged to evict the grounds.
Ramdev and his supporters claimed that Delhi Police fired tear gas and lathicharged on the people who were peacefully fasting. Many of them injured badly and admitted to many hospitals including LNJP, AIIMS and RML. Police forcefully deported Ramdev to his Ashram in Haridwar by helicopter. However Ramdev continued his fast at his Ashram saying that it will be continue till his death.Ultimately Baba Ramdev ended his fast on repeated requests from Sri Sri Ravi Shankar and various activists on the ninth day.
However in the entire episode Ramdev emerged as a hero for the rest of the public but government move had witnessed severe criticize from all section of people. The worst episode came in the incidents when a victim named Rajbala who suffered a crippling spinal injury and was undergoing treatment at G.B.Pant Hospital succumbed to her injury and died following cardiac arrest. Ramdev quoted her death as an irreparable loss for the organization and reiterated that her death will not go in vain.
Ramdev with Anna Hazare: Now Ramdev has his mission to aware people of India against the corruption and black money. He has credit to aware people of the country regarding the major issues like corruption and black money and he got succeeded in this. To culminate his strategy up to its height, now he has joined hands with social activists Anna Hazare and his team and recently he holds a day long fast on Jantar-Mantar to create pressure on government.
He announced his strategy for the future and once again said that his campaign to aware people for corruption and black money will be continue till 2014 general election.
Political parties supports to his move: To fulfill his aim for getting political support for his movement, he has started to meet various political leaders of various political parties.
He met main opposition party BJP president Nitin Gadkari and he promised to support him for the black money and anti corruption movement.
In another major success for his movement, he meets NCP leader Sharad Pawar and surprisingly he also supported his move and said that his demands are genuine.
Ajit singh, chief of Indian National Lok Dal also supported his move and said that issue of black money is major hurdle for the development of the country. He supported Ramdev move and said that black money must be curbed as it plays crucial role during fighting of elections.
Ramdev has announced to meet all the leaders including Congress President Sonia Gandhi also and he is optimistic that his movement will meets its goal which is the real demand and need of every Indian, i.e. corruption free India.