Surajkund Fair gets its international significance
New Delhi, Thu, 07 Jun 2012
NI Wire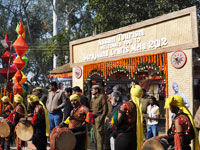 With its vast participation and massive appreciation, now Surajkund fair will be known as International Surajkund Fair in future. The Surajkund Mela Authority has passed a unanimous resolution to upgrade the mela from National level to an International level with effect from 2013. Henceforth, the Mela would be called the "Surajkund International Crafts Mela".
According to Surajkund Mela Authority sources the 36th Governing Body meeting of the Surajkund Mela Authority was held under the Chairmanship of R.H. Khwaja,IAS, Secretary Tourism, Government of India who is also the ex-officio Chairman of Surajkund Mela Authority. Sanjay Kothari IAS, Special Secretary, Union Ministry of Tourism, Mr. Vijai Vardhan IAS, Financial Commissioner and Principal Secretary to Government of Haryana, Tourism, Cultural Affairs, Archives and Archaeology and Museums Departments, Mr. Anand M. Sharan, IAS, Director General, Tourism Department, Haryana, Mr. Anand Kumar IAS, Joint Secretary, Union Ministry of Tourism, Mr. S.K. Misra, IAS (Retd), Ex Tourism Secretary, Govt. of India, Mr. Siddarath Kak, Eminent Media Personality, officials of the Ministries of External Affairs, Textiles and ICCR attended the meeting.
In the meeting authority appreciated and placed on record its deep appreciation of the efforts made by the Department of Tourism, Government of Haryana in successfully organizing the 26th Surajkund Craft Mela, 2012. In particular, the new initiatives such as Bio-degradable, Bio-chemical, E-toilets, E-ticketing, eleborate traffic, parking and security arrangements were appreciated.
It was also decided that an international conference on " Tourism in Rural Areas" shall be hosted during the forthcoming Surajkund International Crafts Mela, 2013 within the mela grounds. Keeping in view the success of the Surajkund Crafts Mela, it was decided that the possibility of hosting similar melas in other States such as in Kerala, Jammu and Kashmir, Banaras (in Uttar Pradesh) etc. would be explored by the Ministry of Tourism, Government of India.
The Mela Authority also decided to ensure advance and adequate publicity of the Surajkund International Crafts Mela, 2013 through the India Tourism offices abroad, as well as all the Embassies of Government of India. The Indian Council of Culture Relations was deputed to ensure increased participation of vibrant cultural troupes from abroad.