Jagannath Rath Yatra celebrated with full enthusiasm in Delhi
New Delhi, Thu, 21 Jun 2012
NI Wire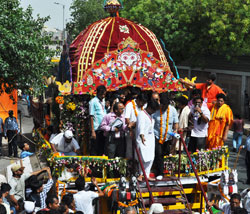 Thousands of devotees gathered here today at Tyagraj Nagar Jagannath temple, in front of Tyagraj stadium, Delhi to show their devotion to Lord Jagannath on the occasion of Rath Yatra. Lord Jagannath along with his brother Lord Balabhadra and sister Subhadra were taken for yatra in a beautifully decorated wooden chariot drawn by devotees.
The Rath yatra began with the famous ritual called "Pahandi Vije" in which the idols were swing out of the Shrine with great respect by the Pandas of the temple and placed in the Rath. The chariot was then moved out of the temple by the devotees accompanied by a huge number of devotees chanting "Kirtan" and dancing on the beats of mridangam and the eymbals. This was the 45th Rath Yatra celebrated in continuation by the Temple following the rituals of the oldest Jagannath Temple in Puri.
It is though that, on this day the lord of the world, Lord Jagannath comes out of his Shrine to mingle with the crowd allowing the devotees to touch them or hug them while paying their obeisance. The festival embarks a ritual tradition of Jagannath Parampara where everyone is allowed to pay their obeisance by embracing their idols irrespective of caste, creed and color.
During the occasion a number of dignitaries were present that included Mr. Ajay MAken, Minister of State, sports and Youth Affairs and Mr. Papu Pam Pam, the King of Odiya Comedy as chief guest.
The Rath Yatra started from the Temple at 3 PM and went to 3 Kms covering places like Safdarjung Bus Terminal, Vikash sadan, INA market, Delhi Haat via Aurobindo Marg and will return to the temple by 6 PM in the evening. The chariot has been beautifully decorated with beautiful flowers, sparkling lights and crafts of Pipli. However, the bajan and kritan was started from the early morning will will be continued till late evening.
The organizing committee Shri Jagannath and Orissa Arts and Culture Centre, Delhi served the devotees with Anna Prasad. A voluntary blood donation camp was also organized in collaboration with Blood Banks of AIIMS where hundreds of devotees donated their blood voluntarily. The devotees looked very enthusiastic during the procession making the ambience very festive and divine.