PW vs MI: Match of veterans Sachin Tendulkar meets Sourav Ganguly
New Delhi, Thu, 03 May 2012
NI Wire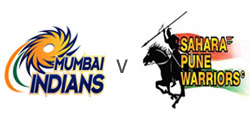 After a long time Indian fans will see Sachin Tendulkar and Sourav Ganguly on the field. However, both will be playing against each other as Mumbai Indians faces Pune Warriors today.
Pune batting line up is looking strong with the entry of Australian skipper Michael Clarke who performed well in the previous Pune match. Now Warriors' top four: Sourav, Uthappa, Clarke and Ryder will have to perform to their potential to chase or make a big score.
Mumbai on the other hand will depend on Rohit Sharma and Rayudu and will hope that Sachin, Pollard and Harbhajan rise up to the occasion and deliver.
The 45th match of IPL between Mumbai Indians and Pune Warriors will take place in Subrata Roy Sahara stadium of Pune. The match will start at 8 pm.
Pune Warriors Team:
SC Ganguly, ER Dwivedi, MJ Clarke, AB Dinda, CJ Ferguson, RV Gomez, Harpreet Singh, DS Jadhav, Kamran Khan, M Kartik, HH Khadiwale, B Kumar, NL McCullum, AP Majumdar, M Manhas, AD Mathews, MD Mishra, AG Murtaza, A Nehra, MK Pandey, WD Parnell, S Rana, JD Ryder, MN Samuels, R Sharma, GC Smith, SPD Smith, Tamim Iqbal, AC Thomas, K Upadhyay, RV Uthappa, SB Wagh, LJ Wright
Mumbai Indians Team:
Harbhajan Singh, AN Ahmed, Amitoze Singh, AC Blizzard, YS Chahal, JEC Franklin, HH Gibbs, DJ Jacobs, KD Karthik, Kuldeep Yadav, DS Kulkarni, RE Levi, CJ McKay, SL Malinga, SH Marathe, SS Nayak, PP Ojha, MM Patel, NLTC Perera, RJ Peterson, KA Pollard, AT Rayudu, JN Shah, RG Sharma, R Shukla, RP Singh, DR Smith, TL Suman, P Suyal, AP Tare, SR Tendulkar, AV Wankhade, SA Yadav