First AIFF Regional Academy starts in Navi Mumbai
NAVI MUMBAI, Thu, 03 May 2012
NI Wire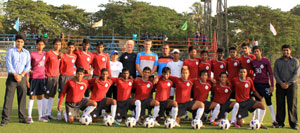 The first AIFF Regional Academy in collaboration with FIFA kicked-off at the Father Agnel School premises in Navi Mumbai. Twenty U-15 boys including two goalkeepers are the part of the Residential Academy at the School premises.
Scott O'Donell, Technical Director, AIFF Regional and Elite Academies conducted the first training session, which was more of fun than intensive training.
"It's imperative that the boys settle down. Hence, we will stress on fun sessions for the first few days. Form thereon, we move into intense training," Scott, stressed.
Colm Toal, Head Coach Youth Development and National Team Coach Savio Medeira were also part of the first training session.
"The Academies would provide the National Coach more options when he sits down to choose the Indian squad in the future," Toal maintained. This was long due, Savio commented.
AIFF General Secretary Kushal Das said, "The future of Indian football lies in the youth. This is AIFF's first Regional Academy and we stay committed to open more Regional Academies."
Father Saturnino Almeida, Managing Director of Father Agnel Schools who has been running from pillar to post to get everything in perfect shape, said "the Academy is all about the future."
"This is a fantastic opportunity where two social institutions of India come together to serve the future of the country in Academies and Football," he explained.
Former India International Aqeel Ansari stays the Assistant Coach at the Academy while Ms. Sonika Sudan has been appointed as the Physiotherapist. Shailesh Karkera will be the Academy Manager.