Hindu devotees celebrate Mahashivratri across India
New Delhi, Mon, 20 Feb 2012
NI Wire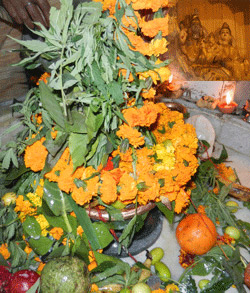 The festival of Mahashivratri is being celebrated across the India. The religious processions are being taken out across the country on the occasion of Mahashivratri.
In Delhi large number of people are reaching Shiv temple to offer puja since morning.
In most part of India Rudra Abhishek ritual is also being done. The Rudra Abhishek is a ritual where Panchamrut Pooja is offers to lord Shiva. The Rudra Abhishek ritual is done by chanting powerful Vedic hymns and mantras. In this Pooja after the traditional Ganesha Pooja, Kalasha sthapana, Guru Puja, Deep Puija, etc, the Shiva Linga sthapana is done. The Shiva Linga abhishekam is done with the prescribed 11 ingredients like water, milk, curd, ghee, honey etc. Devotees keep whole day fast and chant the mantra, "Om Namah Shivaya".
"Rudra Abhishek ritual brings peace or prosperity, progress in profession, health or wealth" said Priests of one of the Shiva Temple Delhi.
In Patna, Bihar large number of devotes are gathering at the Shiva temples to offer the Puja.
In Varanasi, Uttar Pradesh, large number Hindu devotees celebrated Mahashivratri with religious fervor in honor of Lord Shiva, one of the deities of Hindu Trinity.
Maha Shivaratri or Mahashivratri falls during the dark half of the month of Magh. In year 2012 it is celebrated today 20, Feb 2012. The Maha Shivaratri is a day of strict fasting accompanied by Lord Shiva's worship and vigil precedes the festival. Devotees rejoice and feast after they break their fast. It is regarded as an extremely auspicious festival.
The festival celebrates the marriage of Lord Shiva to Goddess Parvati, and holds immense importance for the Hindus