Serial blasts in Kabul after Obama leaves, 8 killed
Kabul, Wed, 02 May 2012
NI Wire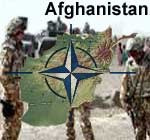 At least eight people were killed and 17 injured in a massive suicide bomb attack in the capital. According to sources bomb were planted in car and it blasts just after US president Barack Obama left Kabul for a undisclosed destination. Obama was in Kabul for signing a treaty exactly one year when Al-Qaeda chief Osaman bin Laden was gunned down in Pakistan. Taliban has claimed responsibility for the attack which occurred at about 6.15 a.m.
According to sources there were at lest two suicide car bombing explosion occurred near a logistic camp Green Village run by Pul-I –chakri which was being run by Foreigners. Blast claimed at least 8 people died including one foreign security guard and five civilians.
It has been said that major gunfire were also witnessed after the two explosions in the locality.
Police have cordoned off the area and massive search operation has been started in the locality. Police is on high alert after the incidents and some helicopters were flying over the area.
It is noted that US president Barack Obama was in a surprising visit in Kabul and blast was planted keeping him in mind. He has signed a cooperation agreement with Afghanistan as he paid an unannounced visit to the war turn country.
Obama said that with this agreement, he is confident that the Afghan people will understand that the United States will stand by them. US came here with a very clear mission to destroy Al Qaeda, he added.
He reiterated that Afghanistan is a friend and a partner in the United States.
It is Obama's third visit to Afghanistan since taking office. He also addressed troops at Bargam air troops.
Obama's visit to Afghanistan came a week after the Afghan and US governments finalised the US-Afghan strategic pact's draft.
At present, there are over 90,000 US troops in Afghanistan and the US is expected to draw down that number to 65,000 by the end of 2012 and to less than 20,000 by the end of 2014.
(With inputs from IANS)