IPL: Deccan chargers twice pounded Pune Warriors
New Delhi, Wed, 02 May 2012
NI Wire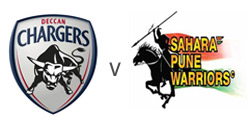 Deccan Chargers have won only two games in this year's IPL and both of the win have come against the team, which was once at the top of the table, Pune Warrior. Warrior's are at present in 7th position.
Deccan lost their first wicket on the very fist ball when Samuels bowled Parthiv Patel. Shikhar Dhawan went early too, but then Cameron White and Sangakkara built the innings slowly. However, Sangakkara fumbled a lot at the start and both of them got a lifeline when they were dropped.
For the first 9 overs Deccan were just touching the run rate of 6 but after 10th over things started changing for them. Sangakkara hit 4 fours to Samuel and in the next over Cameron hit 3 consecutive sixes to Ganguly making 49 runs in 2 overs. At the end, Deccan made 186 runs at the lost of 4 wickets.
Rajasthan while chasing interestingly lost their first wicket too on the first ball in the form of Manish Pandey. Then Michael Clarke and Sourav Ganguly built the innings. Clarke made 41 before getting run out while Ganguly made 45. Smith made 47 and remained not out. They tried hard but fell short by 13 runs at the end.
In the 42nd match of IPL played in Barabati Satdium of Cuttack, Deccan Chargers beat Pune Warriors by 13 runs.