Suu ki sworn in to Parliament, beginning of new era
Nay Pyi Taw, Wed, 02 May 2012
NI Wire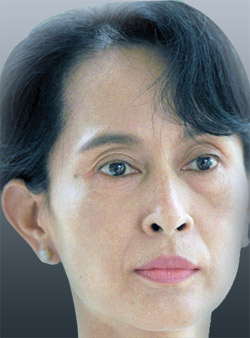 Myanmar witnessed a memorable day in its history when leader of opposition Aung Saan Sue ki took oath for the first time to the military ruled parliament. She has joined any office for the first time when she started her agitation against the military ruler regime.
She arrived in the parliament and took her seat, which was unexpected, as she had been opposing military regime for many years.
Suu Kyi, along with 42 other elected law makers of her party except three, who are on official visit to Australia, were sworn in to the parliament's two houses about half an hour after their arrival.
It is noted that Suu ki has struggled a lot in getting her milestone. She had been held under house arrest for much of the last two decades before her efforts appreciated in such a way. She got Nobel Prize for peace in 1991 and finally released in late 2010.
(With inputs from IANS)