2012 Pulse Polio campaign begins
New Delhi, Sun, 19 Feb 2012
NI Wire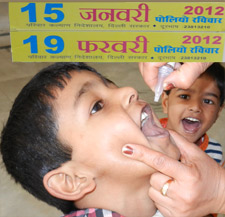 The nationwide immunization campaign for Polio starts today in which more than 17 crore children of less than 5 years of age will be given polio drops. The large scale government-funded programme is carried out by 23 lakh volunteers and more than 1.5 lakh supervisors to assist and monitor the success of vaccination.
The President of India Pratibha Devisingh Patil launched the National Pulse Polio Programme for 2012 by administering Polio vaccine drops to eight children at Rashtrapati Bhawan. Such a campaign of this scale and size is undertaken in a single round. This is the largest vaccination programme conducted by India and nowhere in the world.
Certainly, as rightly said by Health and Family Welfare Minister Ghulam Nabi Azad, India is making history in its fight against polio: "It is indeed a remarkable achievement that for the last one year, the country has remained completely free from Polio without witnessing even a single case."
In the past, India had a rather large share of global polio cases and only two years ago in 2009, we accounted for half of the total polio cases in the world. Seen against this back drop, today's achievement of one full year of zero polio case is extremely impressive," he highlighted.
The Ministry of Health has taken all possible steps to reach every household even at the remotest region of the country. The government machinery is also making sure that mobile and migratory populations are also not left uncovered. As announced by the Minister, with continuous effort India aims to be declared as a Polio free country by January, 2014.
Although the success of Polio vaccination has been unprecedented, the health ministry and non-government organizations working on this cause are mindful to the fact of the risks that persist not only on account of indigenous transmission but also importations from other endemic countries.
Under the new immunization drive, there is going to be zero tolerance for any new polio case and any such case will be declared as a public health emergency. For effectiveness of the programme, rapid response teams have already been formed in all States and UTs to sensitize any new polio case in the country.
In addition, all the states bordering the neighbouring countries have been alerted to strengthen surveillance for early detection of any imported polio case. For this, special booths have been established in the bordering areas to ensure, that all children under five years of age coming from across the border are given polio drops.
Polio is an incurable disease which if not stopped with initial vaccination of children under 5 years of age; it can affect the person to their lifetime. Handicap, permanent paralyzed and even losing control over the body parts are common results of the disease.
The Government of India (GoI) has so far launched many programmes such as "Do Boond Zindagi Kay" and "Polio Sunday" to evade the serious problem. Various sorts of awareness Pulse Polio Programme has been telecasted on radio, television and also published in print media to reach out to the maximum people.