DC vs PW: Michael Clarke may debut in IPL
New Delhi, Tue, 01 May 2012
NI Wire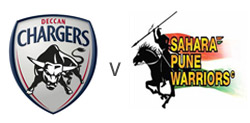 In the previous encounter Deccan Chargers saw the win of 18 runs over Pune Warriors and they will look to do it again. Pune who had a great start to this year's IPL lost to the team which is at the bottom of the table and gave them their first win.
However Deccan Chargers face a strong task as they have won only 1 game in their 8 matches and their inclusion in last 4 looks impossible. Dale Steyn is the only player in Chargers who has outshined. Sourav Ganguly and his team will hope to square things up and with the availability of Michael Clarke to play will give their batting line up more steadinesses.
The 42nd match of Indian Premier League will be played between Pune Warriors and Deccan Chargers in Barabati Stadium of Cuttack, Orissa. The match will start at 4 pm.
Deccan Chargers Team:
KC Sangakkara, A Ashish Reddy, Anand Rajan, Ankit Sharma, T Atchuta Rao, AA Bhandari, DM Bravo, B Chipli, DT Christian, KH Devdhar, S Dhawan, JP Duminy, MS Gony, DJ Harris, IR Jaggi, AA Jhunjhunwala, CA Lynn, A Mishra, T Mishra, PA Patel, V Pratap Singh, SA Quadri, DB Ravi Teja, PA Reddy, BB Samantray, C Sneha Kishore, S Sohal, TM Srivastava, DW Steyn, TP Sudhindra, J Theron, CL White, AS Yadav
Pune Warriors Team:
SC Ganguly, ER Dwivedi, MJ Clarke, AB Dinda, CJ Ferguson, RV Gomez, Harpreet Singh, DS Jadhav, Kamran Khan, M Kartik, HH Khadiwale, B Kumar, NL McCullum, AP Majumdar, M Manhas, AD Mathews, MD Mishra, AG Murtaza, A Nehra, MK Pandey, WD Parnell, S Rana, JD Ryder, MN Samuels, R Sharma, GC Smith, SPD Smith, Tamim Iqbal, AC Thomas, K Upadhyay, RV Uthappa, SB Wagh, LJ Wright