MCD campaign: Parties launches ministers in run
New Delhi, Sun, 08 Apr 2012
NI Wire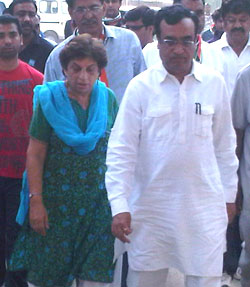 Keeping eyes on the forthcoming MCD elections Congress has launched its ministers in favour of its candidates. In this way the Union Youth and Sports Affairs Minister and Delhi govt. minister Kiran Walia campaigned in safdarjung enclave.
On the occasion Makan stressed on leadership emerging from the grassroots while acknowledging challenges." Candidates Arora has been living here since the last 40 years and that's the kind of leadership we need. Let's all unite to ensure he wins."
Walia said that we approve budgets for development work in the assembly but they get stuck at implementation level in the ward, which leads to blame game. If the MP, MLA and the Councillor are from the same area, the development works will be carried out without any such political roadblocks.
Congress party is trying to make the most of anti-incumbency against the BJP that is in power in the Municipal Corporation of Delhi. The party is riding high on twin moves of Trifurcation of MCD as well as women's reservation in corporation. The BJP on its part is hoping to cash in on rising prices and a spate of corruption allegations against the Congress led Central govt.