Advani urges govt. to remind Pakistan for its old commitment
Mumbai, Sat, 07 Apr 2012
NI Wire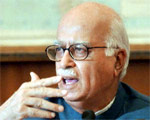 Before the one-day visit of Pakistani President Asif Ali Zardari to India, senior BJP leader Lalkrishna Advani has urged govt. to ask Pakistan to act on extremist militants havens if it wants to boost bilateral ties. He said that Pakistan must fulfill his promises committed in past.
Advani said that govt. should tell again to Zardari to ensure positive bilateral ties between both the countries. For this it is essential that Pakistan should fulfill the promise made in the joint statement made after the meeting of the then President of Pakistan and the Indian Prime Minister Atal Bihari Vajpayee.
In the declaration it was clear and Pakistan had assured that it will not allow for nurturing terrorist activities and anti-India militancy. Now Zardari should fulfill the commitment and eliminate the military activities and infrastructure, he added.
It is noted that during his visit, Zardari will meet Prime Minister Manmohan Singh at his official residence before proceeding to Jaipur and Ajmer.
At Ajmer, he will offer prayers at the shrine of the Sufi saint Hazrat Khwaja Moinuddin Chishti.
(With inputs from ANI)