Housefull 2: Review
New Delhi, Sat, 07 Apr 2012
NI Wire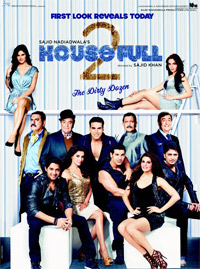 Film Cast: Akshay Kumar, John Abraham, Riteish Deshmukh, Shreyas Talpade, Rishi Kapoor, Randhir Kapoor, Mithun Chakraborty, Johny Lever, Asin, Jacqueline Fernandes, Zarine Khan, Shazahn Padamsee, Chunky Pandey, Boman Irani
Director: Sajid Khan
Rating: 2*
Being the sequel of Housefull and directed by Sajid Khan, one can expect this film to be a slapstick comedy with a mix of stars, foreign locations some double meaning dialogues, dim-witted comedy and lot of confusion.
Riteish Deshmukh uses a flowchart in the second half of the film to explain who's who, who's posing as who and who's being assumed as who in film. Confused, that's exactly what Khan intends to do. If you can't convince them, confuse them. Now you know what to expect.
Everything revolves around four friends and their four girlfriends, whose four fathers mistake every son-in law for Jolly. Somewhere down line the witticism wears thin. There are occasional comic scenes and dialogues than can make you laugh.
Akshay (Jolly 1, Sunny) comic timing has always been exquisite and he maintains that in this film too, except for his repeated moan and flicking of his tongue side-to-side. But all other male actors, Ritesh (Jolly 2, Jwala), Shreyas (Jolly3, Jai) and especially John (Jolly 4, Max) try hard to promise but have failed subsequently.
While the four female characters are just put in for spanking, adding glamour and romancing with there on screen lover.
This is the first time Randhir and Rishi Kapoor are sharing screen. They play half-brothers who-are-not-in-arms. Then there is Jagga Daku or JD, a dacoit-turned-English aristocrat Mithun Chakraborty. He plays the father of Jolly (Riteish). And all the other three pose as Jolly at some time or the other in the film.
Boman is a Gujarati and is always shouting for no substantial reason whatsoever. And one can easily forget chunky and Johnny Lever. Even the crocodile and python who have the job to grab people in the parts where it hurts the most have done better acting then them.
And Ranjeet, the iconic villain of 80's, is in for a guest appearance is the best of the lot film has to offer despite of his negligible role.
Housefull crew never promised us story, performances, characters or craft. So if you are looking for a film where you can keep your brain at home and come and watch a film without family than this week Housefull 2 it is.