Saeed calls for jihad against US to save Pakistan
Muzaffarabad , Sat, 07 Apr 2012
NI Wire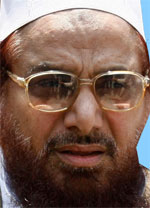 Jammat-Ul-Dawa chief Hafiz Muhammad Saeed has publicly called for a jihad against US. He has said that to save Pakistan and Islam it necessary, which is compelling US to its fall.
Saeed who was speaking in a public sermon said that US are even scared of my name and that is why it has announced a bounty of 10 million dollar on his head. This is the same jihad, which caused the USSR to break, and now America is failing because of it.
Saeed blamed media and said that it is influenced by west and that is why it always degrade jihad. Analyst and media don't realise the fall of America but the actual reason is jihad, he added.
He said that there are many parties prevails in Pakistan but the US has announced its message to Jamma-ud-Dawa because we do jihad.
He justifies jihad and said that it is need of time to jihad against US for saving Pakistan and Islam.
(With inputs from ANI)