PM may hold one-on-one talk with Zardari
New Delhi, Sat, 07 Apr 2012
NI Wire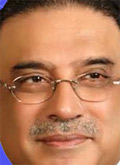 Pakistan President Asif Ali Zardari, who is coming India on Sunday to pay obeisance at shrine of Khwaja Moinuddin Chishti in Ajmer, is expected to hold one-on-one talks with Indian Prime Minister Manmohan Singh at Prime Minister's official resident in New Delhi.
There is a speculation that despite accompanying with 40 delegates, there is a chance that PM Singh may hold one-on-one talks with Zardari in the move to get more substantive outcome, official sources said.
On the other hand, Pakistani sources say that President Zardari may press Singh to visit Pakistan.
This will be Zardari's first presidential visit to India in seven years. He is likely to come with his family and Interior minister Rehman Malik. Forty other delegates too are expected to come with him. There is also a speculation that Pakistani's Foreign Minister Hina Rabbani Khar may also join the team of visitors.
Schedule
Zardari's special aircraft will land in Delhi at 11.30 am, from there he will directly go to prime minister's official residence for one-on-one talks. A special program is also schedule after that in which visiting delegates are also invited.
After the lunch, he will fly to Ajmer to offer prayers at the Sufi shrine of Khwaja Moinuddin Chishti.
Security Arrangement
Viewing Pak President's visit to the shrine of Khwaza Moinuddin Chishti, a tight security arrangement has been deployed in Ajmer and nearby shrine areas. As much as 2,000 police men have been deployed in the route of Zardari from airport to shrine.
Special units will be deployed atop high-rise buildings and along the route's Zardari's convoy will take, a senior police official said.
As is the protocol on such occassions, three-tier security will be in place during the visit.
--With Agencies Input --