'Good for you', 'Good for the earth' campaign to protect environment
New Delhi, Fri, 06 Apr 2012
NI Wire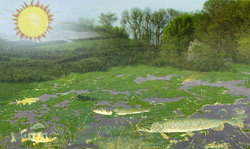 If it's "Good for you", it's "Good for the earth". This is a unique initiative launched by a leading beverage packager, in order to increase the awareness about protection of environment and the benefits of recycling.
"Every time you pick up a Tetra Pak carton you have the opportunity to create a greener tomorrow. Made primarily from renewable resources, Tetra Pak cartons can be recycled into benches, chairs, books, roofing sheets and much more, after you dispose of them," the company said in a statement Thursday.
"True to our motto, 'Protects What's Good', Tetra Pak's commitment to consumers, customers and all stakeholders goes beyond protecting the contents in a Tetra Pak carton. Tetra Pak is actively promoting initiatives that encourage environmental awareness and sustainability," Jaideep Gokhale, Tetra Pak's communications and environment director for South Asia markets, said.
"This campaign aims to increase awareness about the benefits of recycling Tetra Pak cartons and how they are 'Good for You' by providing good nutrition and how they are 'Good for the Earth' by being recyclable," Gokhale added.
The pilot campaign will be promoted through print and radio media with the participation of 100 schools of Delhi-NCR for one month.
An environment education programme participating 170,000 school children who are part of Project SEARCH has also been initiated in association with The Energy and Resources Institute (TERI) and Tetra Pak.
"Leading environmentalist and polar explorer Robert Swan will be visiting India soon to motivate and encourage children of Project SEARCH who are actively promoting environment sustainability. While these students are spreading sustainability across seven cities where Project SEARCH is present, our new campaign will help create more visibility and awareness," Gokhale said.
-With inputs from IANS