Gilani's harsh reaction against Saeed's bounty; calls it 'internal matter'
Islamabad, Fri, 06 Apr 2012
NI Wire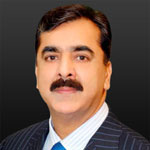 Reacting to US latest announcement of US$ 10-million bounty on Jamaat-ud-Dawa Chief Hafiz Saeed, Pakistan Prime Minister Yousuf Raza Gilani on Thursday called it the "internal matter" of Pakistan and asked to provide evidence against saeed if any to Islamabad.
According to sources, Pakistan has also beefed up the security of the Chief of JuD and leader of Lashkar-e-Taiba, a banned group in India, United states and United Kingdom.
Earlier, United State had announced a bounty of US$10-million on Saeed to help in capturing India's 'most wanted' terrorist who is accused of being the master mind of Mumbai 26/11 serial bomb blast in which 164 people were killed and 308 injured.
Meanwhile, in a television interview, Saeed mocked at the US and asked it to give him the bounty offered for him under the Rewards for Justice programme.
He also dismissed the allegations levelled against him of his alleged active role in terrorism.
--With Agencies Input --