'Deep' trust deficit between govt. and Army, says Advani in his blog
New Delhi, Fri, 06 Apr 2012
NI Wire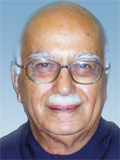 Veteran Bharatiya Janata Party (BJP) leader L.K. Advani Friday has expressed his concern over the published report of an English Daily 'The Indian Express' on 'unnoticed' Army Troop Movement towards capital that 'spooked' government.
Comparing this event to 'a disturbing event of 1989' in which 'erstwhile Home Minister Buta Singh allegedly took a serious move after the defeat of congress party and called the army, and how it was aborted', Advani said that the Express story and follow up reports in sections of the media were 'extremely alarming' and shared his party spokesperson's view that 'government-army ties are at an all time low'.
'The Indian Express story this week does highlight how deep is the trust deficit pervading the Establishment circles these days,' said Advani it in his blog http://blog.lkadvani.in
The Express had Wednesday reported that an 'unnotified' movement of two key army units - a Mechanised Infantry unit from Hisar in Haryana and a sizeable section of 50 Para Brigade from Agra - on the night of Jan 16-17 towards the capital had spooked the government.
'If one reads the April 4 report thoroughly, and the several follow up stories published April 5, one would have to concede that the reports are extremely alarming,' he wrote.
--With IANS Input--