Team Anna launches SMS cards
Lucknow, Fri, 06 Apr 2012
NI Wire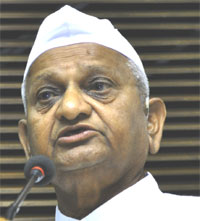 For the spreading information about its corruption movement, Team Anna has now decided to launch a pan-India SMS card. Price of each card is Rs. 25 and one crore of the cards have been issued so far.
According to sources there is a scratch card with a specific number that has been issued. During this it has been kept in mind that sometimes positive, negative and neutral coverages by the media. It has been said that such a misconception either confused or ill-informed the supporters of India Against Corruption.
By purchasing the card one can keep oneself with update about what is happening with the India Against Corruption for one year.
With a database of more than three crore mobile numbers, the service, if used in one go for bulk SMSing, would cost IAC Rs.5 lakh at the existing market rate for SMSs.
Team Anna member Vaibhav Maheshwari said that Team Anna is facing fund crunch and so it has decided to gain money from its supporters.
(With inputs from IANS)