UNESCO to protect now 'Titanic wreckage'
Paris, Fri, 06 Apr 2012
NI Wire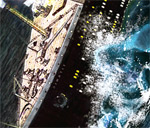 On marking the 100th anniversary of the sinking legendary cruise 'Titanic', United Nations Educational, Scientific and Cultural Organization (UNESCO) has announced to protect its wreckage in under water and will make it UNESCO's underwater cultural heritage site.
Announcing to protect 'the wreckage of titanic' the world organization said in its communique, "On April 14, 1912 Titanic hit an iceberg in North Atlantic and sank. This year will mark 100 years since the tragedy, meaning that the hull will from now on be protected by the 2011 Convention on the Protection of the Underwater Cultural Heritage."
According to the rule, 'the convention can only be applied to objects that sank more than 100 years ago.'
The Titanic, the biggest and most luxurious ocean liner of its time, sank in international waters and no state has exceptional jurisdiction over the wreckage. From now on, states parties to the convention are entitled to prevent destruction, looting, sales and unsanctioned distribution of objects found at the shipwreck site.
They are also entitled to take all measures they consider necessary to protect the sunken ship or ensure that the remains of the victims are treated with dignity.
The Titanic, with 2,200 people on board, departed from the British port of Southampton April 10, 1912, for its first and last voyage from Europe to the US.
On April 14, it struck an iceberg in the Atlantic and sank in the early hours of April 15. At least 1,496 people were killed in the world's greatest maritime tragedy, and only 306 bodies were recovered. Only 706 people were rescued.
--With Agencies input--