9/11 attack accused sent for trial; may face death sentence if convicted
Washington, Thu, 05 Apr 2012
NI Wire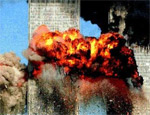 The five accused of September 11, 2001 have been sent for facing the trial, headquarters of the United States Department of Defense Pentagon said to media.
The five Guantanamo Bay inmates including Khalid Sheikh Mohammed, alleged Pakistani mastermind of 9/11 terror attacks will be tried by a military commission on charges including terrorism, hijacking, conspiracy, murder and destruction of property, said Pentagon on Wednesday.
'If found guilty, they can face death penalty,' it added.
Khalid Sheikh along with four others - Saudi Arabians Waleed bin Attash, Mustafa Ahmad al-Hawsawi, Ramzi Binalshibh (Yemen), and Pakistani Ali Abd al-Aziz Ali - had allegedly planned and executed the terror attacks of Sep 11, 2001, which saw hijacked planes strike twin towers of World Trade Centre in New York and the Pentagon in Washington in which 2,976 people were died.
The levelled charges would read out before the accused in a military trial court within 30 days, and could be asked to enter the plea, informed a news agency.
Earlier, as per reports, in 2009 the Obama administration tried to move their trial into US civilian courts, but reversed its decision in April 2011 after widespread opposition.
The United States has formally sent to trial Khalid Sheikh Mohammed, alleged Pakistani mastermind of 9/11 terror attacks, along with four other suspected Al Qaeda militants involved in its planning. They could face the death penalty if found guilty.
Mohammed, according to Pentagon has admitted he was responsible "from A to Z" for the 9/11 attacks. He was captured in Pakistan in March 2003 and has been detained at Guantanamo Bay since 2006.
US prosecutors allege that he was involved with a host of other terrorist activities including the murder of American journalist Daniel Pearl and a failed 2001 attempt to blow up an airliner using a shoe bomb.
--With Agencies Input --