UP: Ban on junk food in school premises
Lucknow, Thu, 05 Apr 2012
NI Wire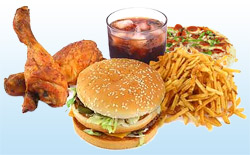 In a significant move UP govt. has decided to ban sale of junk foods within the Schools premises and outside. A instruction in this regards have been issued to all the schools including Indian Certificate of Secondary Education (ICSE), Uttar Pradesh Board and Central Board of Secondary Education (CBSE).
According to senior govt. official sources the Secondary Education Council initiated the move when it got an instruction to ban all the junk foods items from the Union Health and Family Planning Ministry.
After implementation of the rule now all forms of junk food, carbonated cold drinks and high sugar containing food from their campuses, as these lead to a host of diseases at later stage of life, including diabetes, high blood pressure and piled up cholesterol levels would be banned such items in or outside the schools premises.
Govt. notification has warned all the authority to implement the law strictly and violation will not be tolerated. School management has to be said on focussing healthy and nutritious food for the students.
(With inputs from IANS)