Green vegetables useful for breast cancer patients
New Delhi, Thu, 05 Apr 2012
NI Wire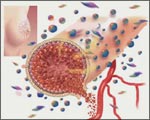 A recent study has suggested that women suffering from breast cancer have a better chance of survival if they consume green vegetables.
According to a study made in China there is a link between the consumption of cruciferous vegetables like greens, cabbage and broccoli, and reduced death rates from breast cancer.
The researchers observed a total of approx. 5,000 women for around five years who were diagnosed with breast cancer, Daily Mail reported.
It was found during the study that the women eating more cruciferous vegetables during the first three years of diagnosis had reduced the chances of death.
With the increasing consumption of the vegetables, the chances of death reduced by between 22 percent and 62 percent and from all causes by between 27 percent and 62 percent.
During the entire study period, a total of 587 women died out of which 496 died from breast cancer, the Mail said.
Moreover, the researchers said the consumption pattern were quite different in China and west.
"Commonly consumed cruciferous vegetables in China include turnips, Chinese cabbage/bok choy and greens, while broccoli and brussels sprouts are the more commonly consumed cruciferous vegetables in the US and other
Western countries," said study leader Sara Nechuta, from Vanderbilt University in Nashville, US.
-With inputs from IANS.