I did women-centric films 10 years back, says Karisma
New Delhi, Thu, 05 Apr 2012
NI Wire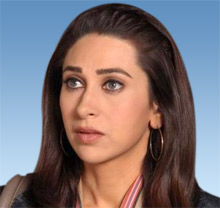 While Vidya Balan is getting admiration for bringing in the trend of women-centric films, actress Karisma Kapoor has said she has already done this.
"Honestly, I think it's (women-centric films) quite amazing. But I would also like to remind you that I used to do that 10 years ago as well - 'Biwi No.1', 'Fiza', 'Zubeidaa' and 'Shakti'," the actress who has given superhot like "Raja Hindustani" told reporters Wednesday here while launching the first look of her upcoming flick "Dangerous Ishq", which she is acting in after a sabbatical of nine years.
"So I genuinely feel that a good actor and a good script will always get the audiences in. I don't think it's now or then, if you are a good actor, those kinds of scripts will come to you. It's great that it's still happening,the 37 year old said.
"Dangerous Ishq", a 3D venture is directed by Vikram Bhatt, and Karisma is doing role of a supermodel who begins seeing past-life in a moment of danger. Model-actor Rajneesh Duggal is also working in this film. The film is slated for May 11 release.
At the function, Karisma let out a secret yet unknown to her fans.
"I have been in the industry for almost 20 years, but from my first movie till now, I cannot sit in the audience and see myself on the screen. I just can't do it. It's a secret that I am telling everyone today. I always stand at the back somewhere and gauge," said the actress.
Karisma took a break from active film career after marrying Delhi-based businessman Sanjay Kapoor in 2003. The couple is blessed with two kids - daughter Samaira and son Kiian.
-with inputs from IANS