IPL 5 opening ceremony: Stellar performances make the OPENING NITE unforgettable
New Delhi, Wed, 04 Apr 2012
NI Wire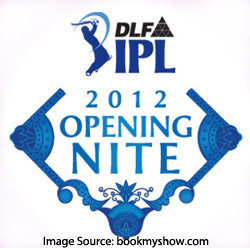 A glittering galaxy of Bollywood stars, including Amitabh Bachchan, Priyanka Chopra and Kareena Kapoor, US singer Katy Perry set the stage on fire at the dazzling opening ceremony of the fifth edition of the Indian Premier League (IPL) at the YMCA Ground here Tuesday night.
In his signature baritone, Bollywood megastar Amitabh Bachchan kept the audience enthralled with a heartwarming poem written by lyricist Prasoon Joshi.
Big B was performing for the first time on stage after having undergone abdominal surgery. He looked in the pink of his health as he came on stage dressed in velvet coat and trousers. He rectied "Janam Yadhi Phir Se Mile".
Amitabh Bachchan was accompanied by dancers from the Shiamak Davar troupe, who brought alive the essence of the poem through their stunning performance.
His performance was followed by Colonial Cousins, DJ Ravi Drums and Soth African percussionist group 1st Project who enthralled with their lively numbers.
Bollywood's own Piggy Chops (Priyanka Chopra) then amazed packed audience when she went up in the air while performing, and got cricketer Harbhajan Singh to shook legs with her.
Elegantly dressed in a black and white sequinned top, black pants and a red wrap-around skirt, the actress began performance with her popular song "Aaj ki raat".
She did away with her skirt for a sporty look as she was pulled up in the air with a harness for an aerial act on the "Don" tune. The Bollywood diva left audience awestruck with her confidence, and landed on the stage for an electrifying dance on the song "Dhantanaa" from the film "Kaminey".
She moved around in the audience, and invited Sourav Ganguly and Harbhajan Singh, sitting in the front row to dance. Bhajji was quick to accept her invitation and showed some foot tapping on stage.
Later, Priyanka took to the stage again for a tête-à-tête with the cricketers of Chennai Super Kings, led by Indian skipper Mahendra Singh Dhoni.
She then urged Dhoni and the boys to join her for a dance on hit Tamil song "Nakka mukka".
But it was Kareena Kapoor who got the audience glued to stage when she performed on her hitnumbers "Chhamak chhallo" , "Dil mera muft ka" and "Vanakkam" on the Opening NIte of IPL 2012..
She arrived on stage dressed in a blingy black overcoat amidst cheering of audience.
"Kaun hai jisne mujhe mudke nahin dekha (Who is the one who didn't turn around again to see me)" from her popular movie "Kabhi Khushi Kabhie Gham", was playing in the background while she appeared on stage. No one could have resisted the temptation of looking at her during her power packed performance.
Kareena further drove the audience crazy with "Chhammak chhallo", "Pyaar ki pungi", "Dil mera muft ka" and also shook legs on some remixed versions of her songs like "Yeh ishq haaye", "Teri meri prem kahaani" and "Criminal".
There was not even a single moment of boredom during her fairly long performance.
India's dancing sensation, Prabhu Deva also performed on some dazzling dance numbers.
The accomplished dancer kept everyone enthralled with her performance on songs like "Main aisa kyun hun" from "Lakshya" and "Tera hi jalwa" from "Wanted" at the opening ceremony of IPL 5 in Chennai
The dancing star even got down the stage to mingle with the audience who were enjoying every moment of his performance.
BCCI president Srinivasan said the Board of Control for Cricket in India (BCCI) will distribute the proceeds among 185 international and domestic cricketers.
"The proceeds from the play-off matches will be distributed among former cricketers, who have represented India at the international level and also among domestic players. The BCCI will give a one time assistance to those cricketers and around 185 Indian cricketers will benefit. It is a small gesture from the BCCI to all those who have done yoeman's service to Indian cricket," Srinivasan said.
Standing alongside the nine IPL team captains, Srinivasan said it was a proud moment for him.
"It is a proud moment for me to stand here on this stage with nine captains. IPL has gone from strength to strength and has become one of the premier tournament of the world," Srinivasan said.
Srinivasan also added that IPL has helped the BCCI to develop infrastructure for the sport across the country.
"We distribute proceeds from the IPL to all the state associations to build infrastructure. BCCI spends substantial amount on helping to develop the game at the grass roots," he added
--with inputs from IANS