Latest Breakthrough in the Treatment of Obesity
New Delhi, Wed, 04 Apr 2012
NI Wire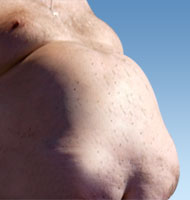 Obesity has already reached to epidemic proportion in many countries and slowly becoming one of the major health threats in various developed as well as underdeveloped nations. Various contributing factors corresponding to modern life style and attitude toward diseases as well as health are beloved to be constituting the main cause of obesity and though precautionary measures and warnings by the health care professionals regarding the necessity of changes in life style habits for curbing obesity are long going through regular publication, medical announcement and through various type of consensus building measures, still there is not much progress achieved in that regard. Obesity is mainly a disease which still now did not find any conclusive and permanent curative answer and for regular medicinal as well as dietary or exercise based treatments are administered just to check the disease within the bound of control. Researchers all over the globe are continuously trying to find more advancement or breakthroughs for the cure of the disease. We will introduce here some of the latest breakthroughs in the treatment of obesity.
New drug to treat obesity
Recent research has come up with two important drugs which according to scientific findings can reduce effect of obesity by 50%. These two drugs, Phentermine and Topiramate, which are respectively known as popular weigh loss drug and drug for the treatment of migraine are to be used in a combination to obtain the fast result in regard to losing weight.
Promise of new obesity treatment through gene
This latest breakthrough in the treatment of obesity can produce hope for the permanent cure for the disease. Researchers have found a gene in the human body which has tremendous potential for fighting the causes that surmount in the symptoms of obesity. The gene named as BDNF can pave the way for great therapeutic procedures which can naturally treat the obesity without the help of any conventional medicine or therapeutic drugs.
Scientific findings revealed that direct inducing of the gene through either feeding or in the weight control mechanism of brain can produce great effect in eradicating obesity.
Obesity treatment through brain surgery
The latest findings of a series of scientific research unveiled some groundbreaking truths in regard to the treatment of obesity. This latest breakthrough in the treatment of obesity can inspire awe but the surgery is not much complex in nature and it is reported to have the potential to produce lasting effect. The surgery is called deep brain stimulation and as the name suggests it is supposed to stimulate the parts of the brain which produces hunger and food satisfaction.
Latest breakthroughs in the treatment of obesity as mentioned and discussed above clearly shows the scientific advancement in health care which is long focused in finding a conclusive treatment for obesity.