Some new development about Dinosaurs' research
Madrid/London, Wed, 04 Apr 2012
NI Wire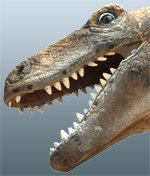 Dinosaurs were expected to be the biggest animals of this earth, as per the researches claimed on the basis of unearthed fossils and found evidences. Though their existence had ended millions years ago, but some fossils resumes the debate over their habits and habitats.
In a recent development, Spanish palaeontologists have claimed to unearth the fossilized skull of the biggest dinosaur yet found in Europe.
According to a Spanish palaeontology foundation that has presented the fossilized skull of Dinosaur on last Wednesday, 'that skull was belongs to a sauropod 'Turiasaurus riodevensis' that lived 145 million years ago.
The unearthed skull fossil, which contained more than 35 bones of the skull and seven teeth, was one of the rarely found intact skulls. It measured more than 30 meters long and weighed some 40 tonnes.
The skull fossil was presented by Teruel's Dinopolis Foundation at Paleontological Laboratory in Spain.
The fossils were excavated during the 2005 excavation campaign in the Barrihonda-El Humero deposits in the Riodeva municipality, as Dinopolis foundation claimed.
In another development, a British scientists has claimed that dinosaurs were too big and heavy to support themselves on dry land, so they must have lived in water.
According to a published report in Telegraph, a Cambridge University researcher and scientist Professor Brian J Ford has claimed that the estimation about prehistoric creatures was wrong as it did not support their physiology as the palaeontologists have been understanding for decades.
Ford believes that dinosaurs' tails were too large and cumbersome to hunt or move with agility, and could not have consumed enough food to sustain their energy needs.
Instead, he claims they must have lived in water where their environment would support their bulk successfully.
--With Agencies Input--