Need for more research in sports science: Dr. Meera Sood
New Delhi, Mon, 30 Apr 2012
NI Wire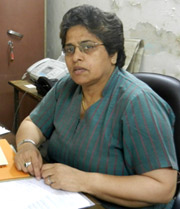 Dr. Meera Sood, Director Delhi University Sports Council has said that there is a need for more research needs to be done in the field of sports science and sports economics. University system must have the specialized training centre for different events. She has demanded the university should focus more on Olympic Education program, health and other program not merely for Olympic.
Education system must have a strong bonding with the sports federation and govt. agencies. She said that talent search program and imparting of Olympic education should be done from grass root level with the support of govt. agencies and corporate along with NOC and Universities. Legacy of meg event should be utilized to the maximum and maintenance can be done through PPP Model. Olympic education program should be included in the curriculum of physical education at all levels of education. Regional centre of Olympic study be developed.
She recommended that Olympic Academy must organize program at regular interests for physical education teachers and coaching.