Rising number of political party, a big challenge: Quraishi
New Delhi, Mon, 30 Apr 2012
NI Wire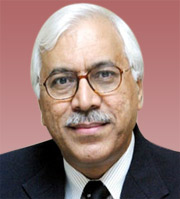 Chief Election Commissioner S. Y. Quraishi said that paid news has emerged a major challenge before the election commission and there is a need to curb this. He termed this as clandestine deal between politicians and journalist.
Quraisi was addressing the three-day Conference of Heads of Election Management Bodies of South Asian Association of Regional Council (SAARC) countries in Delhi.
On the occasion, Quraishi said that rising number of political parties, frequent elections and increased number of voters have thrown new challenge before the Election Commission of India. Paid news is also a major challenge for the system, he added.
It is noted that the 3-day Conference brings together the Chief Election Commissioners and senior election officials of the region on a common platform to share best practices in election administration and management. Many burning topics would be discussed during the conference including empowerment of Election Management Bodies; Inclusive elections, Voters Education, Controlling Money Power in Elections, Technology for cost-effective elections etc.
The discussions will also focus on the final shape of the Forum of SAARC Election Management Bodies, which was agreed at the last Conference held in Islamabad.
Mr Fazel Ahmad Manawi, Chairman, Independent Election Commission of Afghanistan, Mr Kazi Rakibuddin Ahmad, Chief Election Commissioner of Bangladesh, Mr Dasho Kunzang Wangdi, Chief Election Commissioner of Bhutan, Mr Neel Kantha Upreti, Chief Election Commissioner of Nepal, Mr Ibrahim Waheed, Commissioner, Maldives, Mr Justice Muhammad Roshan Essani, Member, Election Commission of Pakistan and Mr Mahinda Deshapriya, Commissioner of Elections of Sri Lanka lead their delegations. Representatives from UNDP, SAARC Secretariat and Mr J Lyngdoh, former CEC are attending the Conference as special invitees.
Bangladesh hosted the first Conference in May 2010 and the second Conference was held at Islamabad last year.
(With inputs from Agencies)