Petroleum Minister denies to comment on Petrol price hike
New Delhi, Tue, 03 Apr 2012
NI Wire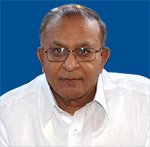 Amid the speculation of massive hike in petrol prices, as Oil Marketing Companies (OMCs) are bearing losses of Rs.7.67 on Petrol, Union Petroleum and Natural Gas Minister S. Jaipal Reddy on Tuesday denied to comment on the possibility of a fuel price hike.
"You know about all these facts. I have no comment to make unless we take a decision," Reddy told media after meeting Indian Oil Corporation (IOC) chairman and managing director R.S. Butola.
OMCs are demanding the government to either hike the petrol prices or give them 100% compensation to cover their losses or cut the appropriate statutory duties on Petrol.
"I do not know if the proposal is pending with the Ministry of Petroleum or other appropriate authorities. The company has requested the government for either compensation of hundred percent under recoveries for petrol to the company, or reduction in the appropriate statutory duties. If that is done then there is no need to increase the price; if it is not then we need to increase the price," said Butola.
IOC has been asking for a price hike citing that the situation in the Indian oil market is critical.
As it is known that petrol prices in India are market-linked, but diesel, cooking gas and kerosene rates are set by the federal government, which partly compensates state oil firms for their losses when global crude oil prices increase.
--With ANI Inputs--