Apple's new iPad on top for its feature
Washington, Tue, 03 Apr 2012
NI Wire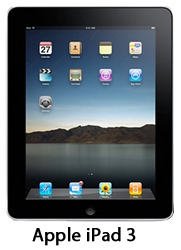 Apple's new iPad has gone beyond its popularity due to its better performance, unique feature and longer battery life; the latest US magazine consumer report has revealed the facts.
According to the report, Apples's new iPad was warmer than the iPad 2, but that it did not find those temperatures to be cause for concern. It is appreciated more due to its best performance and longer battery life than all other tablets despite energy-intensive display and graphics.
Apart from these the new iPad is equipped with high-resolution screen of which appears a new benchmark in excellence, providing the best rendering of detail and colour accuracy we've ever seen on a tablet display.
Report has also recommended several other tablet models, which were appreciated for its basic features. Toshiba Excite 10LE for its the "lightest tablet" or Pantech's eight-inch Element, a waterproof tablet, Sony Tablet P which allows users to read ebooks in a traditional two-page book format, and Samsung's Galaxy Tab 7.7, the first tablet with an "organic" light-emitting diode (LED) screen.(With inputs from IANS)