US announced a $10 million bounty on India's most wanted terrorist Hafiz Saeed
New Delhi, Tue, 03 Apr 2012
NI Wire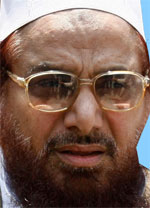 In a bid to give major boost to India's fight against terrorism and its efforts to capture 26/11 Mumbai bomb blast alleged mastermind, United States (US) on Monday announced a bounty of US $10-million on Lashkar-e-Taiba (LeT) founder and Jamaat-ud-Dawa (JuD) Chief Hafiz Saeed.
This announcement was made by US Under-Secretary of Political Affairs Wendy Sherman on Monday in New Delhi who is at her maiden visit to India. Wendy has conveyed US President Barak Obama's message to India, as US know India's stand on Saeed.
With this announcement Hafiz Saeed has come at par with Taliban founder Mullah Omar, who is in the list of most wanted terrorists for America and accused of being mastermind of 9/11 twin tower attack in US.
Hafiz Saeed is India's most wanted terrorist, who is currently roaming in Pakistan freely and is reportedly spitting venom against India while addressing in different parts of Pakistan.
When India had mounted pressure on Pakistan and displayed some proof against JuD chief, Pakistan made home arrest to Saeed, but a Pakistani Court has cancelled all allegations levelled against him and also quashed the ban which Pak had imposed on JuD.
On 26th November 2011, at least 166 persons including six US citizens were killed in Mumbai bomb blast.
--With Agencies Input--