India loses credibility in the world: Gadkari
New Delhi, Tue, 03 Apr 2012
NI Wire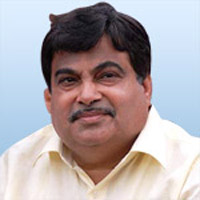 BJP national president Nitin Gadkari said that Chief Minister of Delhi has been indicted by PM appointed Shunglu Committee, CAG and Lokayukta has proved several charges of corruption against head of the state for misusing he powers several times in the past.
He has launched a booklet 'Ghotale hi Ghotale' in capital boosting up the state BJP ahead of MCD election to be held on 15 April.
On the occasion Gadkari said it is highly unfortunate to remember that due to the price spiral and corruption UPA- 2 has lost the golden chance to economically strengthen the country. Due to the wrong policies of Central Government, India has lost credibility before the world. Various International bodies have also criticized several times the present Government on the account of corruption. The present Government is taking anti- people decisions day by day. Due to the high level corruption in the country resulted in skyrocketing price spiral, pinpointing corruption and total collapse of administrative system.
State President Vijendra Gupta said that on the account of corruption committed by State and Central Government this booklet will soon become the gossip of each and every street of Delhi. With the help of this booklet, Party workers can easily explain and convince about the corruption committed by these Governments.