I never court controversy, says Rihanna
New Delhi, Tue, 03 Apr 2012
NI Wire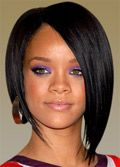 Popstar Rihanna says that she does not do anything to be controversial or to get anything banned but discloses that she does overstep the mark occasionally.
The 24-year-old popstar's recent video 'We Found Love' received large attention, as it depicts drugs and violence.
"When I make a music video, it's a piece of art. It's four minutes to make a visual, for people to understand the message in the song," the Daily Mail quoted the "A Girl Like Me" hitmaker as telling the Radio Times in an interview.
"I never do anything to get banned, never do it for controversy. It's always just honest and at times I just go a little too far for some," said the popstar who debuted with album "Music of the Sun".
--with inputs from ANI