Use of Fertilizers increases greenhouse gas
New Delhi, Tue, 03 Apr 2012
NI Wire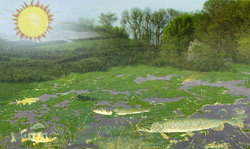 A recent study revealed that, increasing reliability on fertilizers has led to a significant rise in the atmospheric nitrous oxide (N2O), a major greenhouse gas responsible for global climate change.
Climate scientists have ascertained that the increasing N2O in the atmosphere is a result of excessive use of nitrogen based fertilizers which stimulates the microbes in the soil that convert the nitrogen nitrous oxide faster than the normal rate.
The study used the isotopes of nitrogen to identify the fingerprint of fertilizer in the air samples from Antarctica and Tasmania the journal Nature Geoscience reports.
"Our study is the first to show empirically...that the nitrogen isotope ratio in the atmosphere and how it has changed over time is a fingerprint of fertilizer use," said Kristie Boering, University of California-Berkeley professor of chemistry and of earth and planetary science, who led the study.
"We are not vilifying fertilizer. We can't just stop using fertilizer. But we hope this study will contribute to changes in fertilizer use and agricultural practices that will help to mitigate the release of nitrous oxide into the atmosphere," Boering added, according to a California statement.
A slow increase in the atmospheric N2O was seen during the green revolution in the 1960s, when the low cost synthetic fertilizers increased the food production across the world.
-With inputs from IANS.