Kings XI Punjab is a balanced team despite absence of big names: Gilchrist
New Delhi, Tue, 03 Apr 2012
NI Wire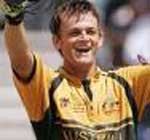 Swashbuckling batsmen and Kings XI Punjab captain-cum-coach Adam Gilchrist said on Monday that Kings XI Punjab might not have some big names but the team is a balanced squad for the fifth edition of the Indian Premier League (IPL) that starts from Wednesday.
"We necessarily don't have a big list of names that match up with some other franchises, but we have a balanced squad. We are playing competitive cricket. I don't think there is any secret tactic that will guarantee victory," he Australian batsmen and Kings XI Punjab captain said at the Punjab Cricket Association (PCA) stadium.
While talking about his role, the explosive batsman said, "Obviously it is an additional role of being captain-cum-coach or you can call me by whatever name you like, by name of job description. But it is going to be a combined coaching effort."
Gilchrist said that the onus lies with him. "Good or poor results, the responsibility will be on me," he said.
Gilchrist said the inclusion of Joe Dawes, the newly appointed Indian bowling coach, and fielding coach Mike Young will strengthen the team. Former India opener Vikram Rathore will be the assistant coach.
"He (Dawes) is a terrific operator while Vikram's presence and his knowledge about domestic players makes our squad a balanced unit, with new additions to our team lending depth in areas (where the team may have lacked earlier)," he has been quoted as saying.
Gilchirst expected this time there will be renewed interest in the IPL.
"I believe last year overall rating plateaued or dropped a bit in the backdrop of India winning the World Cup. But I feel cricket-passionate nation as India is, there should be support this year. I am expecting it (IPL 5) to be evenly fought," he has been quoted as saying.
Dawes was confident of an improved show by the Kings XI.
"I am delighted to be a part of Kings XI Punjab as it is a young and enthusiastic team with some of the best players on its side. I am very confident about team's performance in IPL 5 and am looking forward to a great season of cricketing tournament,"said Dawes.
Gilchrist said the availability of English pacer Stuart Broad, who was ruled out of the series in Sri Lanka, will be known by Tuesday.
--with inputs from IANS