U.P.: All set to be media friendly
Lucknow, Sun, 29 Apr 2012
NI Wire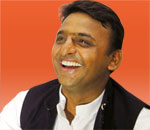 As newly elected chief minister Akhilesh Yadav had hinted soon after his oath ceremony to made govt. media friendly, now Uttar Pradesh is all set for a new dawn and is on the way for a new media friendly state. Efforts are being made so that all the information be available easily for the national and local journalist. Sources says that newly elected chief minister is deeply interested in this regards and all the officials have been said to renovate the public relation departments as quickly as possible.
Highly placed sources said that the chief minister has directed authorities to be "media friendly and promptly available". They said the information and public relations department has also been asked to make a road map "at the earliest" on how to make more and more information available to the local and national media.
Confirming the development, Information Department director Prabhat Mittal told that the orders were "clear cut", and the department was working on them.
It is noted that several pending issues of the local journalists, including passes for entry into the secretariat which had been made "very tough" during the Bahujan Samaj Party (BSP) rule. The government is trying to simplify procedures, which include the Local Intelligence Unit (LIU) verifications, for the media persons before they are allowed into the annexe and secretariat. Accreditation rules are also being worked upon afresh, an official said.
Sources said that Director General of Police A.C. Sharma has also been asked to "put in a word" to his subordinates to be media-friendly. The DGP's office is currently drafting a letter for all district police chiefs, deputy inspector generals of police (DIG) and inspector generals of police (IGPs) to "ensure that media persons get news at the right time, in the right perspective", the source said.
It is noted that the budget for "entertainment" of scribes - tea, refreshments, snacks etc has been increased. "There is no dearth of facilities, we have been asked to not only be courteous and friendly to journalist fraternity but also be welcoming," said Rakesh Singh, PRO at the DGP office.
(With inputs from IANS)