Thakrey criticises congress on Sachin issues
Mumbai, Sun, 29 Apr 2012
NI Wire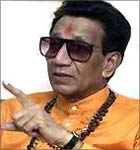 Shiv Sena supreme Bal Thakrey once again had said that the nomination of Sachin Tendulkar as Rajya Sabha M.P. is nothing but a game plan of Congress which is trying to deviate the media from the core issues. He quoted that Sachin deserves Bharat Ratna award but congress is just giving him a M.P.
He criticized Congress with talking to media after conferred a lifetime achievement award by Raipur based magazine Cartoon Watch."It is Congress's dirtiest play, the real Dirty Picture," he said.
It is noted that on Saturday he had said in the Samna that Tendulkar's fans would have loved to call him Bharat Ratna Sachin Tendulkar rather than only Sachin Tendulkar, the MP. He also alleged that Congress is trying to divert media's attention by doing so. He appreciated the achievement of Sachin and his contribution in the cricket.
Speaking about social activists Anna hazaare and his anti corruption movement, he said that first he should take care of those who are corrupted within his team and then eradicate corruption from the country.
(With inputs from IANS)