Delhiites per-capita income three folds to National average
New Delhi, Sat, 28 Apr 2012
NI Wire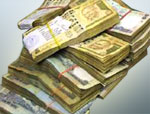 The average earnings of Delhiites is three times to average earnings of an Indian, a latest government report stated by adding that this earning is the second highest per capita income in India of any state after Goa, which holds the top position.
According to latest report entitled "Estimates of State Domestic Product 2011-12", Delhi's per capita income is Rs.1,75,812 while national's Rs. 60,000.
Goa has highest per capita income in India with Rs.1.92 lakh per annum.
The report was released by Delhi Chief Minister Sheila Dikshit.
Noting the key finds of the report, Dikshit said, "According to the report, the GSDP also showed a growth rate of 18.7 percent. The share of the service sector in GSDP in Delhi is about 82 percent, which is an effect of our industrial policy which promotes non-polluting industries."
"Further, the city is developing as a major centre of service sector including information technology and leaving behind neighbouring cities like NOIDA and Gurgaon. This has resulted in large number of employment opportunities in Delhi," Dikshit claimed.
Dikshit said that the report gave a rise of 339 percent in per capita income while the GSDP showed a 490 percent increase from year 1998-99, when she first came to power.
--With IANS Inputs--