Pratibha Patil decides to give up her post-retirement house
New Delhi, Sat, 28 Apr 2012
NI Wire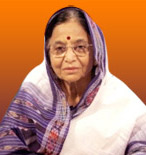 Pratibha Devi Singh Patil, who was continuously facing criticism since last few days over her post-retirement house being constructed in Pune from government fund, Friday decided to forgo it as she voiced "pain" at being portrayed as insensitive to war widows.
The president's spokesperson, Archana Dutta, voiced outrage at what she called falsification of facts. "It's a fabrication of facts. The media has projected that the president is against war widows. This is not true," she said.
The president house in a released statement said, "What has pained the President the most is the fact that she is now being portrayed by some people as one who, by agreeing to accept a defence accommodation for her post retirement home, is insensitive to the cause of war widows and ex-servicemen," said the president's office.
"The accommodation proposed to be allocated to her by the Ministry of Defence was never indicated as one earmarked for war widows. It was to be allotted to her for use as her post retirement residence only during her lifetime with no rights of ownership, transfer lease, etc."
The president's office asserted that the president has been working for the welfare of the defence personnel, especially war widows, and hoped that "this will put an end to all misgivings in this regard."
"She has always been proud of our brave jawans who are ever-ready to display their spirit of sacrifice while defending our borders. She has the highest regards for our war widows who have lost their dear ones for the sake of security and integrity of the nation," it added.
The controversy over Patil's post-retirement home comes close on the heels of a slew of Right to Information applications that have shown that her trips abroad since she assumed office in July 2007 cost the exchequer a whopping Rs.205 crore ($40 million). This, the RTI said, surpasses the record of all her predecessors.
An organisation of ex-servicemen in Pune has claimed that over fives acres of land had been allotted for her residence after she leaves office at the end of her five-year-term in July.
Lt. Col. (retd) Suresh Patil who is involved with the Pune-based 'Justice for Jawan', part of NGO 'Green Thumb', had alleged that 260,000 sq ft has been allotted for the president's post retirement home in Pune's Khadki cantonment. He questioned why a house with a plinth area of 4,500 sq ft was being built by bringing down two British-era country bungalows.
The president's decision to spend her retirement at a newly-constructed Pune house was seen by many as a marked departure from a long-held tradition according to which retiring presidents spent the rest of their time in a government accommodation in the national capital or returned to their respective home states.
--With IANS Inputs--