Ranatunga's removal from SLC Chief held due to opposing IPL: report
Colombo, Sat, 28 Apr 2012
NI Wire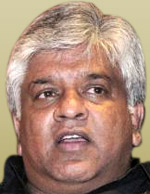 Sri Lanka's sole world cup winning captain Arjun Ranatunga who was deposed from Sri Lanka's Cricket head was held due to government pressure allegedly mounted from Board of Cricket Control of India (BCCI), a latest report say.
According to media reports, the Island, a newspaper stated that in the second edition of IPL 2008, SLC got invitation from England Cricket Board for playing a test series. Ranatunga was head of SLC at that time and was willing to go ahead the series but the dates were clashing with the date of IPL.
Ranatunga reportedly asked players to returned quickly from IPL, but players were reluctant to do so.
The BCCI who organises IPL, held a meeting with a Sri Lankan delegate in Bangkok and asked him to forbade Arjuna's to do so.
The meeting went over two hours and erstwhile IPL Commissioner, current president N Srinivasan and the then secretary Niranjan Shah.
According to newspaper, BCCI officials had put severe pressure on government which resulted sacking of Ranatunga.
However, Arjuna's comment could not retrieved due to his unavailability.
--With Agencies Inputs--