Bangaru Laxman sentenced 4-years jail term in fake arm deal case
New Delhi, Sat, 28 Apr 2012
NI Wire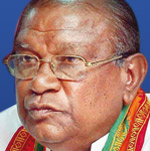 A special CBI court in Delhi on Saturday sentenced former BJP president Bangaru Laxman to four years jail term in the connection of fake arms deal case in which he was found guilty for accepting a bribe of Rs.1 lakh as being BJP president.
The court has also slapped a fine of Rs. 1 lakh to him. The court had reserved its verdict till Saturday afternoon.
Earlier on Friday, the court of Additional Sessions Judge Kanwal Jeet Arora at Dwarka convicted him in a 10-year-old graft case. After conviction, Bangaru had urged leniency from the court on the basis of his bad health condition and as being a heart and diabetic patient.
Bangaru has undergone bypass surgery twice and is also diabetic patient.
On the contrary CBI had sought the maximum punishment of five years.
Citing various Supreme Court judgements on corruption, the prosecutor had said corruption is rampant and it has to be dealt severely.
"CBI has been able to prove the case against Bangaru so we want maximum punishment for him under Section 9 of the Prevention of Corruption Act," the prosecutor said.
In 2001, tehelka.com, a newsportal, which is well-known for sting operation had carried out such an operation in which a journalist who was in the portrayal form of arm dealer offered bribe to Bangaru Laxman for awarding a contract to a fictitious Britain-based company M/s West End International, for the supply of the imagers to the Indian Army, which was accepted by Bangaru. All these acts were secretly captured in a spy cam, which was later telecast on several news channels that created storm in Indian politics and Bangaru Laxman had to resign from his post.
A Delhi court in May 2011 framed corruption charges against Laxman. The CBI, in its chargesheet, said that Laxman accepted Rs 1 lakh from the representatives of the purported firm in 2001 at his office for pursuing their proposal to supply certain products to the army.
--With Agencies Inputs--