JMI University confers Ban-ki-moon with honorary degree of Doctor of Letters
New Delhi, Fri, 27 Apr 2012
NI Wire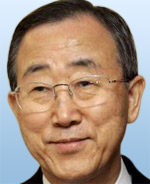 Jamia Millia Islamia (JMI), the Central University of Delhi on Friday conferred an honorary degree of Doctor of Letters to United Nations Secretary-General Ban-ki-moon in convocation program here.
Taking his honorary degree, moon said that despite the challenges involved he trusted India to build and strengthen partnerships with her neighbours and saw a "future of steadily warmer ties" in this region.
"I believe India will also find the way to build and strengthen partnerships of common ground with your neighbours. I know there are many challenges, but I see a future of steadily warmer ties built on a shared heritage and a common future. He did not name Pakistan or any other country.
He said he saw India as a "regional and global force" and would like to encourage it to advance causes of peace and security and "deepening South-South cooperation."
Admiring the country for its contribution to the UN peacekeeping force, Ban Ki-moon said, "As the world's third largest troop contributor to UN peacekeeping - you are the backbone of our efforts to prevent further conflict and keep peace worldwide."
"But beyond that, something else stands out... India is a union of cultures... religions... languages... all coming together within the fabric of tolerance, understanding and collaboration."
Ban Ki-moon is on a three-day visit to India during which he will meet Prime Minister Manmohan Singh. He will Saturday also visit Mumbai, where he will inspect some UN development projects in the city.
The UN secretary general also lauded the 92-year-old varsity: "Jamia Millia Islamia University richly encapsulates the best of the Indian Muslim tradition reflecting a true cosmopolitan creed."
The eighth secretary-general of the United Nations was given the Doctor of Letters (D.Litt) degree at an impressive ceremony at the M.A. Ansari Auditorium by Chancellor M.A. Zaki and Vice Chancellor Najeeb Jung for his contribution to development and world peace. The event was attended by his wife, the academic community and diplomats.
Jung, reading out the citation, described Ban Ki-Moon as "one of the most acclaimed figures of our times..."
Ban Ki-moon, born June 13, 1944, in Korea, has been a career diplomat. In 2011, he ran unopposed for a second term as secretary general and was unanimously re-elected to the post by the General Assembly.
Recalling his long professional and personal association with India, Ban said that his bonds with India run deep.
He began his professional career in India, his son was born in India, daughter is married to an Indian, and his grandson, named Jai (an Indian name), is the "world's finest joint venture" between India and South Korea, from where he hails.
"When I am in India, I am at home," he told his audience who greeted the remark with loud applause.
--With IANS Inputs--