Former BJP president Bangaru Laxman convicted in bribery case, sent to jail
New Delhi, Fri, 27 Apr 2012
NI Wire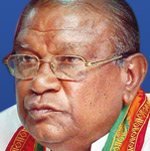 Former BJP president Bangaru Laxman who was accused of taking bribe of Rs. 1 lakh, trapped unknowingly in a sting operation in 2011 has been convicted today.
A Special CBI court has found him guilty of taking bribe from a journalist in a sting operation in 2001 when he was on the post of BJP president. The court convicted him under the Prevention of Corruption Act (PCA) and directed police to take him into custody immediately till Saturday, when the quantum of sentenced would be pronounced.
According to media reports, Central Bureau of Investigation (CBI) is likely to appeal to the court for maximum punishment.
Earlier, the court had reserved its order on April 2 in the case.
The corruption charges were framed against Bangaru Laxman in May 2011.
The case dates back to 2001, when Tehelka.com carried out "Operation Westend", a sting that exposed the scandal. It has alleged that Laxman was caught on camera receiving money from an undercover journalist, posing as an arms dealer.
He later resigned as the BJP chief.
Tehelka released the sting CDs allegedly showing Laxman accepting money for awarding a contract to a fictitious Britian-based company M/s West End International, for the supply of hand-held thermal imagers to the Indian Army.
The Central Bureau of Investigation in its charge sheet alleged that Laxman accepted Rs 1 lakh from the representatives of the purported firm in 2001 at his office for pursuing their proposal to supply certain products to the army.
"Tehelka portal scribes, impersonating as representatives of West End International, had held eight meetings with Laxman between Dec 23, 2000 and Jan 7, 2001, projecting themselves as suppliers of defence-related products," said the charge sheet.
Immediately after the judgement, the Congress targeted the BJP.
Congress leader Manish tiwari said the BJP should introspect after the verdict.
--With IANS Inputs--